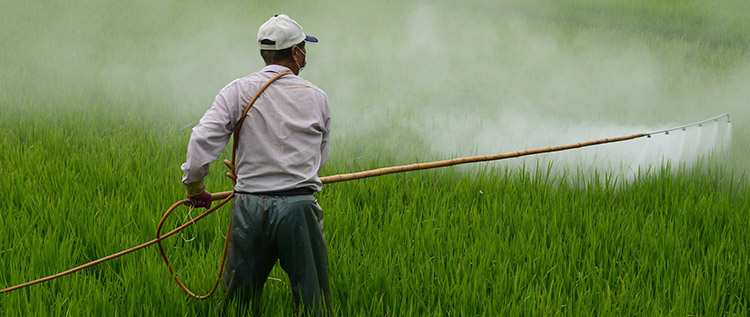 How Do I Become a Pesticide Applicator?
If you want to become a pesticide applicator in New Jersey, the first step is to complete the CORE Basic Pesticide Training Program. It doesn't matter what type of pesticide applications you intend to do. Everyone must complete this class.
What is the CORE Class and Where Can I Find it?
The CORE Basic Pesticide Training Program is a four-hour class about proper safety procedures for storing and applying pesticides. This class is offered at Rutgers University in New Brunswick once per month. You can also check with the NJ Department of Environmental Protection for other locations. Please note this class is available in English and Spanish. It is no longer available online.
Do I Need to Pass an Exam?
Yes, after the CORE class you need to pass the CORE exam. After you've passed the CORE exam you will be a pesticide operator. An operator is not a licensed applicator but an operator can still apply pesticide under the supervision of an applicator.
How Do I Become a Licensed Applicator?
Every type of pesticide application has a category. To become an applicator, you need to pass another exam for the specific category of pesticide application you intend to do. For example, if you want to apply pesticide to grass/turf you need to pass the category 3B exam. If you want to apply pesticide to ornamental plants, you need to pass the category 3A exam. For many categories, you'll also need 40 hours of experience working as an Operator – but if the experience is not available to you, you can substitute a "category class" for this requirement.
The category classes are not offered at Rutgers but you can find them here on the NJDEP website. Rutgers only offers the CORE training class.
Where Do I Register for the Exams?
You can register for the CORE exam and any category exam on the PACER website. The exams are currenty available in-person or online. If you're interested in taking the exam online, please read the "tech requirements" listed on the first page of the website.
What Are Recertification Credits?
In order to maintain your CORE and category licenses, you need continuing education credits. For CORE, you need 8 credits of education every five years. For the categories, you need 16 credits every five years. You can receive these credits by taking classes. Each class is rated for a certain number of credits.
I'm in trouble! Where Can I Find Recertification Credits Right Now?
The classes below all supply them. Click on the class link and you can read more information, including the credits supplied, and then you can register. All classes are in-person and given in New Brunswick unless otherwise noted.
October 12 – Emergency Pesticide Recertification Seminar
October 14 – Basic Integrated Pest Management (online class). Please note the NJDEP policy regarding recertification credits received from online classes. It's listed in the middle of this page under the "important message" heading.
October 19 – Pesticide Calibration
October 21 – Emergency Half-Day Recertification Class in 3A (morning)
October 21 – Emergency Half-Day Recertification Class in 3B (afternoon)
October 26 – CORE Basic Pesticide Training Program
October 27 – Turfgrass Disease Management (this class supplies 11 credits for 3B, so if you're desperate before the October 31 deadline, this one might be a good idea.)