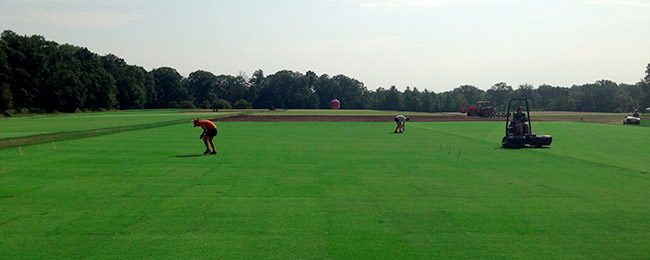 The annual Rutgers Turfgrass Research Field Days will be held on August 2nd and August 3rd. This event allows people to view the many research plots and learn about the most current developments in turfgrass management. Each day features a different focus and location.
August 2 will be the "Golf and Fine Turf Day" at Rutgers Turfgrass farm (Hort Farm II) at 102 Ryders Lane in New Brunswick, NJ.
August 3 will be the "Lawn, Landscape and Sports Field Day" at Adelphia Farm at 594 Halls Mills Road in Freehold, NJ.
Both days will have pesticide certification and GCSAA education credits.
Tuesday, August 2
8:00 a.m. – CORE session for pesticide credits.
Field tours throughout the day that focus on disease, insect, and weed control.
A presentation concerning the management of Velvet Bentgrass
An evaluation of new products for golf courses.
2:00 p.m. – 3:00 p.m. – Basic Training for Professional Fertilizer Certification. Fertilizer Certification exam will be given after the training session for an additional cost of $75.00.
Wednesday, August 3
Educational sessions displaying major advances in turfgrass breeding, performance of turfgrass under traffic stress, and low-input turfgrass systems.
Sports Field Managers Association of NJ's trade show
Equipment demonstrations
Early registration fee is $65.00. Members of the Turfgrass Association receive an early-bird discount rate of $50.00.
After July 11, on site registration rates apply:  $80 for non-members, $65.00 for members.
For more information or to register please visit http://www.njturfgrass.org