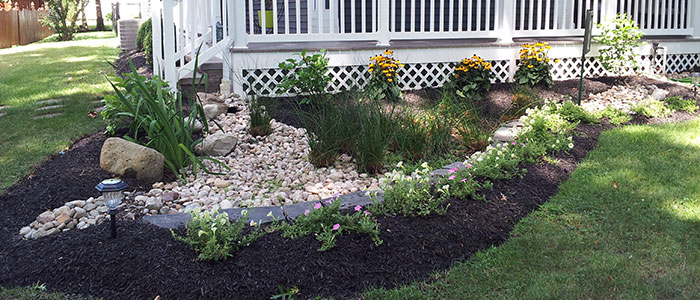 Rain gardens are becoming a popular item in an increasingly "green" world. You can create them for your own home or offer them to clients.
The following information is from our friends at the EARTH center:
In July, the Rutgers Cooperative Extension of Middlesex County invites you to participate in: "Rain Gardens for Home Landscapes."
This workshop is scheduled for 6 p.m. on Wednesday, July 13 at the EARTH Center, in Davidson's Mill Pond Park, 42 Riva Ave., South Brunswick.
Rain Gardens are used to help filter polluted rainwater, and to renew an area's groundwater. Rainwater runoff, also called storm water, can be directed from household downspouts or from impervious surfaces like driveways, rooftops, walkways and compacted lawn areas. When storm water is intercepted by a rain garden, potential pollutants like road salt, fertilizers, pesticides or motor oil, are prevented from entering our local waterways.
Participants in the workshop will learn how to plan, design and install a rain garden at home and will receive a Rain Garden Installation Manual.
"It is critical that we do everything we can to keep our environment healthy," said Middlesex County Freeholder Director Ronald G. Rios. "Rain gardens are not only a beautiful addition to a home landscape, but they can help us keep our lakes and streams clean. I encourage residents to attend this informative seminar."
"Rain gardens are not difficult to plan and can be installed on any size property," said Freeholder Kenneth Armwood, Chair of the Business Development and Education Committee. "With only a little effort, you can make a major impact on pollution control, flood protection and water conservation.  Let the EARTH center show you how."
Registration and a $20 program fee are required and must be received by July 9 to reserve your space. Call (732) 398-5273 or e-mail Janice.tonkery@co.middlesex.nj.us. No walk-ins will be taken.
The program fee is payable by check or money order. Make checks payable to: Treasurer — County of Middlesex.
Mail to:
EARTH Center
42 Riva Ave.
Davidson Mill Pond Park
South Brunswick, NJ 08902
For more information on Rutgers Cooperative Extension programs in Middlesex County visit  www.middlesexcountynj.gov and search "extension".
Rutgers Cooperative Extension educational programs are offered to all without regard to race, religion, color, age, national origin, gender, sexual orientation, or disability.