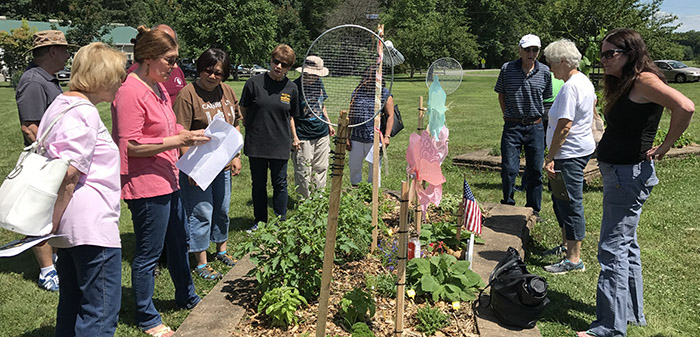 Here is some news from the EARTH Center:
EARTH Center Open House Offers
Fun for Whole Family
AUGUST 7, 2018– Would you like to learn how to spruce up your garden, spend a day at the park, or enjoy the fun of a fair? You can do it all at the Rutgers Cooperative Extension of Middlesex County's Open House and Folk Fest! This event will be held Saturday, August 18 from 11 a.m. to 5 p.m. at the EARTH Center located in Davidson's Mill Pond Park at 42 Riva Ave. in South Brunswick. The rain date is August 19.
The day will be filled with activities for the whole family, including garden tours, presentations and showcases on gardening and landscaping, plus live music by members of The Einstein Alley Musicians Collaborative and the Folk Project.
Throughout the event, the Agriculture Office and the Rutgers Master Gardeners will offer advice on horticulture and environmental stewardship while guiding visitors through various teaching gardens. Examples of their work include the Children's Garden with Green Roof playhouse, an enormous vegetable display garden, a Native Plant Garden and the popular Butterfly House. Lectures will be offered on topics such as Newest Rutgers Fruit and Vegetable Varieties and Container Gardening.
Are your kids looking for adventure? Visitors age 14 and under can participate in the Master Gardener Scavenger Hunt. in the gardens throughout the park from noon to 3 p.m. There will be plenty of other fun activities for kids, like a bounce house, a 'paint a pot' activity, and free giveaways! Members of local 4-H clubs will also be on hand to show off their animals. In addition to demonstration gardens, Davidson's Mill Pond Park is a great place to boat or fish and is home to a growing network of hiking trails.
Gardeners, get ready to show off your most impressive produce in our 'Greatest of the Garden" contest! Categories include but are not limited to:
Biggest tomato
Biggest cucumber
Biggest watermelon
Longest gourd
All Vegetables: Best Likeness to a Celebrity or Historical Figure
Does your family ride bikes together, or have a young rider who's still learning the ropes? Families are encouraged to bring their bikes and helmets this year to take advantage of the South Brunswick Police Department's Bicycle Safety Course.
Attendees are asked to bring a donation of a non-perishable food item for MCFOODS, the County's food bank. Contributions will help restock MCFOOD's shelves and assist in providing nutritious food to County residents in need.
"I hope many families will attend this event at our County's EARTH Center," said Freeholder Kenneth Armwood, Chair of the County's Business Development and Education Committee. "It's a great chance to enjoy the weather and spend time together as a family."
"This Open House offers more than just outdoor fun for all ages," said Freeholder Director Ronald G. Rios. "You'll learn more about how to keep yourselves and our environment healthier, and have the chance to donate to a good cause! I hope many families will attend."
Many exhibitors who collaborate with the Rutgers Cooperative Extension of Middlesex County throughout the year will be on hand to share their programs and accomplishments. For more information, please call 732-398-5268 or e-mail david.smela@co.middlesex.nj.us.
Middlesex County's EARTH Center is home to the Rutgers Cooperative Extension of Middlesex County and part of a nationwide network that brings the research of the State land-grant universities to residents. Offices throughout New Jersey are cooperatively funded by the County Board of Chosen Freeholders, Rutgers University-New Jersey Agricultural Experiment Station and the U.S. Department of Agriculture.
Rutgers Cooperative Extension of Middlesex County's educational programs are offered to all without regard to race, religion, color, age, national origin, gender, sexual orientation or disability.
I hope you can join us at the E.A.R.T.H. Center's Open House and Folk Fest
on August 18 from 11 am – 5 pm.