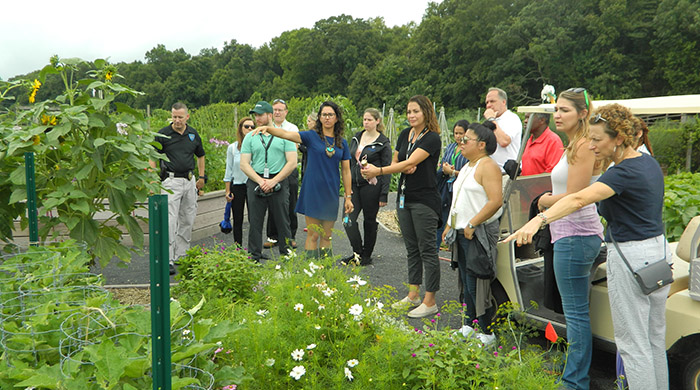 From our friends at the EARTH Center:
The Rutgers Cooperative Extension of Middlesex County will host its Garden Field Day/Open House from 11 a.m. to 5 p.m. on Saturday, August 24 at the EARTH Center, located in Davidson's Mill Pond Park at 42 Riva Ave. in South Brunswick.
The day will be filled with family-oriented activities, including garden tours, presentations and showcases on gardening and landscaping and live music. Throughout the event, the Extension's Agriculture Office and Rutgers Master Gardeners will offer advice on horticulture and environmental stewardship while guiding visitors through various teaching gardens and learning projects. Examples of their work include: the children's garden with green roof playhouse, an enormous vegetable display garden and the popular butterfly house.
Another highlight of the event will be the annual "Greatest of the Garden" competition. Gardeners are welcome to bring their biggest or most outstanding home grown produce for a chance to win. Categories include but are not limited to:
             Biggest tomato
             Biggest cucumber
             Biggest squash
             Biggest watermelon
             Longest gourd
            All vegetables: Best Likeness to a Celebrity or Historical Figure
"Come enjoy the beautiful gardens and educational presentations, while taking in the sounds of local musicians in beautiful Davidson's Mill Pond Park," said Freeholder Kenneth Armwood, Chair of the County's Business Development and Education Committee.
"Garden Field Day is an entertaining event for the entire family," said Freeholder Director Ronald G. Rios. "Through the educational displays, the beautiful scenery and the spirit of collaboration, this event illustrates that caring for the environment is a fun and enjoyable experience."
Many exhibitors who collaborate with Middlesex County Extension throughout the year will be on hand to share their programs and accomplishments. There will also be a food truck and ice cream vendor on site.
For more information, please call 732-398-5268 or e-mail: david.smela@co.middlesex.nj.us. 
Middlesex County's EARTH Center is home to the Rutgers Cooperative Extension of Middlesex County and part of a nationwide network that brings the research of the State land-grant universities to residents. Offices throughout New Jersey are cooperatively funded by the County Board of Chosen Freeholders, Rutgers University-New Jersey Agricultural Experiment Station and the U.S. Department of Agriculture.
The EARTH Center also offers a host of environmental services to the County. Residents can purchase soil test kits, pesticide application test manuals or submit pest and disease samples for evaluation. Rutgers trained Master Gardeners also provide free gardening and environmental advice to residents through their Garden Helpline at 732-398-5220, weekdays from 10 a.m. – Noon.
To learn more about the Rutgers Cooperative Extension of Middlesex County, visit www.middlesexcountynj.gov and search "extension" or text EXTENSION to 56512 to stay connected with events and updates from the Rutgers Cooperative Extension of Middlesex County!
Rutgers Cooperative Extension of Middlesex County educational programs are offered to all without regard to race, religion, color, age, national origin, gender, sexual orientation, or disability.