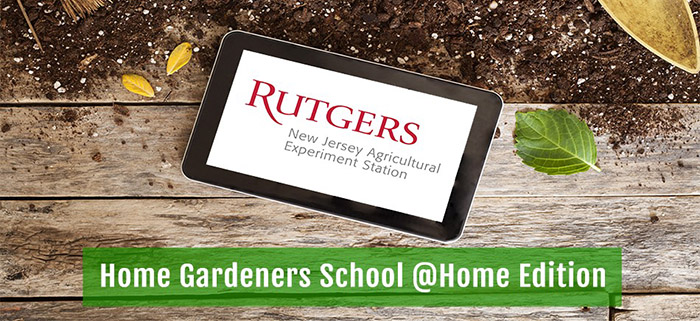 Below is a press release regarding the annual Rutgers Home Gardening School.
Quarantine got you down? Thistle cheer you up!
Learn from Horticulture Experts at
Rutgers Home Gardeners School @Home Edition
One-hour online workshops bring practical gardening science and advice to the community.
NEW BRUNSWICK, N.J.: —For those who are just starting or expanding their planting prowess, the Rutgers Home Gardeners School @Home Edition will provide inspiration, encouragement, and direction. Through a series of one-hour online workshops, participants can learn new gardening skills from the comfort and safety of their own homes. Topics include composting, top garden apps, herbs that attract butterflies, beekeeping, and more!
During each webinar, participants will have the opportunity to ask horticulture experts their questions using the course chat feature. Plus, they will leave each workshop with a digital resource packet that will include course notes, fact sheets, and/or helpful checklists that they will be able to refer to throughout their gardening futures.
In 2020, growing herbs, flowers, vegetables, and fruit has become increasingly important for both mental and physical health. Although the country is not currently experiencing a food shortage crisis as we had during the Great Depression and WWII, being self-sufficient and resourceful with a victory garden is beneficial for individuals to regain a feeling of accomplishment and control. Backyard gardening not only provides nutritious and sustainable sustenance, it is also a healthy hobby that allows families to relieve some stress during these uncertain times.
Rutgers Home Gardeners School has been a beloved in-person event for over 40 years. Typically, the university brings more than 800 home gardeners to campus for one full day of learning. By transitioning to an online format, Rutgers will continue to provide the community with practical gardening science and advice, while maintaining safe social distance practices.
"I am very disappointed to cancel this year's Home Gardeners School event. It is one of our favorite programs to run," said Rutgers Office of Continuing Professional Education Program Coordinator Olga Welsh. "However, we are thrilled that our community is welcoming the online version of the workshops with open arms."
With three sessions scheduled for May and another two in June, the @Home Edition is well underway. Expect many more exciting programs to be announced soon!
For more information or to register for Rutgers Home Gardeners School call the Rutgers Office of Continuing Professional Education at 848-932-9271.