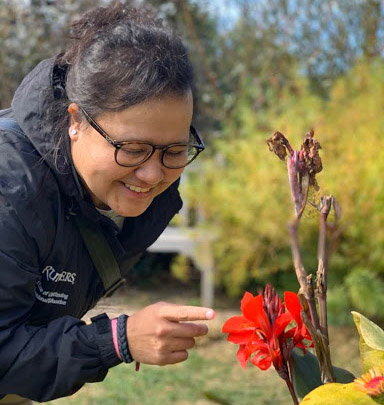 Beth Perez remembers being in high school and trying to sleep late on Saturday mornings—but she couldn't because her mother was right outside the window blasting Fleetwood Mac and trimming a pomegranate tree.
"When I was growing up, I didn't know much about plants," Beth says. "But I wondered why they made my mom so happy. I was genuinely curious."
Beth eventually attended Ramapo College of New Jersey and graduated with a bachelor's degree in Business Administration. She is currently the Program Assistant for Landscape and Grounds Management classes at Rutgers University—a job she originally hesitated to apply for since her degree had nothing to do with horticulture.
"I wondered if I knew enough about plants," she says.
It turns out she did, and it all started with her mother.
"As I got older, I went through some stressful times in school. I was trying to maintain my grades while working two jobs. One of the jobs was a Resident Assistant, and one of my residents gave me an African violet, and it was like my pet! I started to realize that taking care of plants was a good way to get a break from stressful situations. So I started growing more and more of them, and I started learning about how to do it better—and I began to see why my mom liked them so much."
"Being part of something so important at Rutgers University has been a great experience. Now the love I have for plants is greater than ever, and for that I can thank Rutgers and my mom."
Beth helps to coordinate over 60 landscaping classes at the Rutgers Office of Continuing Professional Education. Her favorite class to help manage is the 11-week course "Landscape Plants: Identification, Selection, and Application," and it's coming soon!
If you have any questions about her past experiences or our courses you can reach her at (848) 932-7483. Beth is fluent in Spanish as well as English.
